This specimen was send to me from a French Morgellons sufferer (extracted from neck).
Object diameter = 1 mm or 0.004 inch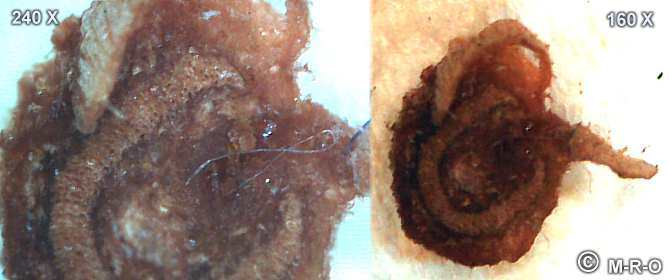 What do we have here? I have seen these kind of organic coils quite often under the microscope. These pictures were formarly under the "unknown objects" category, because I did not yet know what the material actually was.
Now, after obtaining a few test results from a lab, including a helminth test, it turns out that this coil was actually a filaria/nematode (Strongyloides stercoralis). The lab also found an unknown type of fungus-like hyphae growing out of it.

I thought at first that these kinds of circles were created perhaps from many single cells (amoeba-like?). The union of many single amoeba cells later forms a large biofilm, and this new life form is then called "slime mold".
Is it perhaps a slime mold, as I wrote a few years ago? Just a few things point toward this type of fungus. It is actually a model organism, studied more in recent years for its collective intelligence (quorum sensing).
But I left aside the theory of cellular slime molds, such as Dictyostelida or Acrasida, because many other properties point rather to another closely related type of protozoa (myxozoa) or fungi that are natural enemies and predators of nematodes (nematicidal fungi) and insects (Entomopathogenic fungi). These type of fungi are now widespread, because of increased use (20-30 years) by the pesticide industry.
Taking into account that a slime mold epidemic was never before recorded in medical history, scientists also claim that slime molds cannot survive 98.6 Fahrenheit or 37 degree Celsius inside the human body. Who knows? Nature is always changing, and as well, why can an amoeba live inside the human body, causing also severe infections, but an accumulation of them (slime mold) not? This is not plausible enough to me these INVITRO statements of scientists.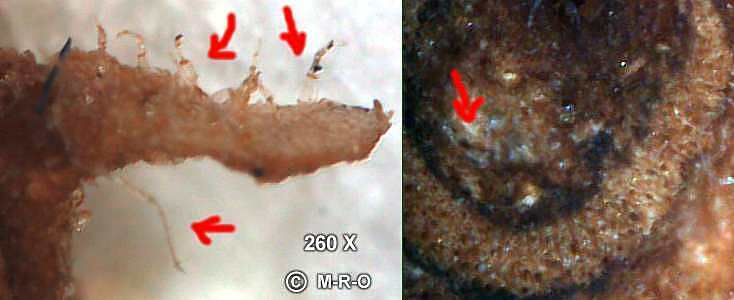 ln this special case, I could observe that all these tiny holes are a result of emigrating fibers. These tiny holes may also be detected on infested skin areas, such as the forehead and external throat surface.
Sometimes during the night, you can even hear the popping sound of these tiny fiber spores which are leaving subcutaneous skin areas, forcing their way OUT on the skin surface, penetrating external skin layer (Stratum corneum), in the reverse of the usual situation, when they use more of their enzymes (proteasis). These enzymes would normally be used more to dissolve and penetrate the skin externally, from the skin's surface to enter the skin. (more about under "Biology")

Tiny fibers that leave the dessicated worm.

Later are these fibers or hyphae spread by wind or insects, etc. to complete their biological life cycle
all over again...